CHEF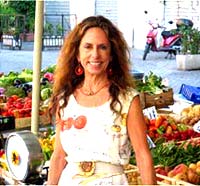 Growing up in a kitchen that smelled of bread baking, roasting legs of lamb perfumed with rosemary, or homemade dark chocolate pot de crème or caramel flan cooling in its bain marie was my great fortune. 
At fourteen,I began to teach myself (with my mother's guidance) the recipes in Gourmet's Volumes I and II, so that by the time I reached college, I was throwing wild and wacky dinner parties on weekends for many willing guinea pigs.
Later, I was associated with Gourmet magazine, Bon Appetite, Wine Spectator, and others. One day, I whipped up some of the focacce I had been serving to guests for years, delivered the war breads to a local market where they began selling daily, and Buona Forchetta Hand Made Breads was born. In a few years, Buona Forchetta was chosen by W Magazine as one of the seven best bakeries in the world and voted number one bakery in Los Angeles by Los Angeles Magazine for the year 2000.
See some of Suzanne's recipes in her books No Knead to Need: Handmade Italian Bread in 90 Minutes and Rome at Home: The Spirit of la cucina romana in Your Own Kitchen.