I love cooking and painting 
(for me it is like breathing), gardening, singing, playing the piano, my husband's ex-wife, my two very individual step-children and six step-grandchildren, and I have strong opinions about cooking with indiscriminate spices, sprouted garlic, or green peppers, and ordering cappuccino in Italy after 10AM.
I began to cook and paint at the age of five, rolling out little cinnamon pinwheels on the kitchen table next to my very talented mother while she constructed the lattice work for her perfect pies. Growing up in a kitchen that smelled of bread baking, roasting legs of lamb perfumed with rosemary, or homemade dark chocolate pot de crème or caramel flan cooling in its bain marie was my great fortune. That and a mother who began taking Gourmet magazine in the 40s when most homemakers were still perfecting stuffed peppers or meat loaf.
At fourteen, I began to teach myself (with my mother's guidance) the recipes in Gourmet's Volumes I and II, so that by the time I reached college, I was throwing wild and wacky dinner parties on weekends for many willing and hungry guinea pigs.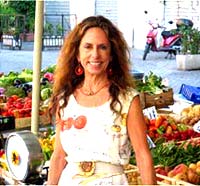 Thanks to parents who loved to travel, I was treated, at 18, to a trip to Europe where I felt an intense and immediate connection to my European roots (my grandmother's father was from Prussia, and my father's family from the original Bohemia in Czechoslovakia). I could easily have stayed for years, but had to return to a misspent year in an all too conservative Virginia women's university. I did manage to hone some skills by writing and directing the Freshman play and studying Italian, but UC Berkeley was the set for my next adventures. After our Freshman year was over, three friends and I departed Houston in the middle of the night, leaving a note on the dining room table to let my parents know that I was headed toward the golden west.

At Berkeley, I continued my art studies with my previous teacher at the University of Texas, Austin, summer session, Joel Smith (a student of Diebenkorn), but after three years of Berkeley in the 60s, my horizons widened further, and I and friend took off for Europe and eventually the road to Rome. This serendipitous journey is described in A Love Affair With Rome, the first chapter of Rome, At Home.

After the first taste of Italy's bounty, the sweetness of the Italians, and the rich and human quality of life in Tuscany, I would be in love forever with all things Italian and longed to stay. But many previous responsibilities and close friendships brought me back to live in San Francisco for three years, and I then moved south to Santa Barbara where I continued to paint and cook.

As chef for a memorable convention of 2000 teachers on a ranch in Santa Barbara, I was given a huge outdoor kitchen with pots in which a person could be boiled easily, many strong, muscular young men to tote them from prep area to fire, and my team prepared an enormous coq au vin, along with a five hundred pound salad of wild miner's lettuce gathered by flower children.

From Santa Barbara, I moved to Los Angeles, where one day I began sending spot art to The New Yorker, along with numerous letters pointing out that their illustrators appeared to be only New Yorkers so why not give a California artist a chance? I shall never forget the day I opened the magazine and found my drawing of chickens on page 47!! Thus began a long relationship with Lee Lorenz, the then art director of TNY and almost ten years of drawing for Goings On About Town.

Would I? Would I like to meet practically every chef in Southern California at one time or another? Would I like to sample their wares on my job? Would I love bartering my watercolors for sumptuous meals in their restaurants and making friends with some of the nicest people in LA?

During this very exciting time, I continued to contribute to Bon Appétit, a column in The Los Angeles Times written by Charles Perry, my food guru, LA West, and other publications. I also continued to illustrate for Wine Spectator, Orion, and to do original advertising art for commercial companies.

In 1993, after having received a phone message from a friend saying, "If you don't do something with this incredible bread, you're crazy," I whipped up some of the focacce I had been serving to guests for years, delivered the war breads to a local market where they began selling daily, and

Buona Forchetta Hand Made Breads

was born.

My husband had joined me in the business (and it was much more fun with two of us!) and we moved to an outside baking space in West Los Angeles, then another larger one in Culver City. In a few years, Buona Forchetta was chosen by W Magazine as one of the seven best bakeries in the world and voted number one bakery in Los Angeles by Los Angeles Magazine for the year 2000.

Finally, after having risen at 3:00 or 4:00 AM for eleven years, we sold Buona Forchetta to Mrs. Beasley's gift basket company, stayed six months during the transition, then went to Italy to spend more time in Rome with my stepchildren and grandchildren. I also needed time for Rome, At Home book signings, my garden, and a paint brush.

During the time we owned the bakery, I had bought a dress whose colors and style had made me very happy and contacted the owner of the company who had made it, Dave Rochlin. We became distant but good friends, and when I suggested he do a bread design for his Food Art, he said go ahead! He used my design, then asked for a sushi and a cookie design as well. My food art may be found on shirts, dresses, and pants in the Jam's World catalogues or on their website, www.jamsworld.com.

You will find in Rome, At Home that I have strong opinions about food and cooking. I feel that if one finds enjoyment in anticipating and planning simple, well-cooked meals and if one eats a little of everything he or she loves instead going on trendy crash diets or indulging in food fetishes, everyone will experience greater pleasure and less fear of what is on one's plate.

Cooking and eating might easily be compared to sex. The anticipation of a great meal is a kind of delightful, titillating foreplay to a climactic event. Imagining the first sweet bite of fresh basil and tomato on a toasted bruschetta or the sensual texture of fresh porcini on handmade pasta, it is thrilling to imagine the act
itself! And eating seasonally instead of expecting the same vegetables and fruits all year round creates lovely, almost unbearable moments of longing and nostalgia for what is to come next: the crispness of fresh artichokes sliced with Parmigiano-Reggiano on a spring salad, the first explosive sweet-tart taste of ripe peaches or the texture of a dense strawberry or golden Blenheim apricot in summer. In my books,
I try to impart the pleasure of how we can all achieve good health, spend more time with friends and family, and fully enjoy our kitchens and ourselves in them.

My husband and I live in Austin, Texas, Rome or Collioure, a lovely, small town in southern France where the Fauves painted.

I am a member of Les Dames d'Escoffier, The American Institute of Wine & Food, Slowfood International, NOW, The ACLU, The James Beard Society, The Instituto Italiano di Cultura, and The Author's Guild.

I write monthly for The American Magazine under Suzanne's Taste and  I am having a vernissage with Anne Pujalte at Le Dome in Port-Vendres, France on May 13th through May 21st.
Copyright
© 2004-2013 Suzanne Dunaway